The North Hills Community Association focus on Gardens & Community

Firestorm Memorial Garden
Created in 1993 and dedicated in 1994, the Firestorm Memorial Garden honors the Oakland hills residents who lost their homes and lives in the 1991 Oakland Hills Firestorm. A bronze sculpture at the southern end is surrounded by low walls bearing the names of the 25 people who died in the firestorm. A drinking fountain honors Oakland Fire Department Battalion Chief James Riley, who died trying to save others. The garden is an official stopping point on Oakland's Scenic Route.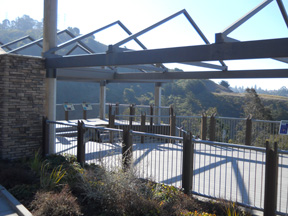 Gateway Emergency Preparedness Exhibit Center
Installed in 2002/2003 alongside Highway 24 just to the west of the Caldecott Tunnel, the Gateway Exhibit Center educates visitors about vegetation management and emergency preparedness. With its fabulous views of the San Francisco Bay and the Golden Gate Bridge, the Center has become a popular attraction, especially for bikers on their way up to Grizzly Peak.  Designed pro bono by local architect and fire survivor Peter Gray Scott, and maintained by volunteers, the center hosted the 10th and 20th Firestorm Anniversary ceremonies.
The Fire Resistant Demonstration Garden at Gateway models Oakland's requirements for defensible space, including plants and mulches appropriate to our climate and topography.
Gardens & Community News & Notes

"This website documents wildlife and wild plants found in the hills on the border between Oakland and Berkeley, California. The area covered is roughly bounded by Tunnel Road, Domingo Avenue, Claremont Canyon Regional Preserve, and Grizzly Peak Blvd., with emphasis on Claremont Canyon and the surrounding hillsides" Check it out here