The North Hills Community Association (NHCA) is a registered 501(c) (3) nonprofit organization located in the North Hills region of Oakland, California. The NHCA's all-volunteer board organizes programs and activities that support the NHCA's three-pronged mission of improving public safety, maintaining and beautifying community gardens and open spaces, and advocating on behalf of area owners and residents with local city and county governments and agencies. Click on the tiles below to read more about each of the NHCA's programs.
Comeback from what? For those new to the North Hills Community Association, you may not know that our neighborhood group grew out of folks coming together in the wake of the 1991 firestorm in the Oakland / Berkeley hills. News of current wildfires raging, the toll that the pandemic has taken on our neighbors, plus the 30th anniversary of the Oct. '91 fires on the horizon led NHCA to create an online place to share stories about that tragic firestorm, to find information to keep safe in future emergencies, and to promote NHCA gatherings that bring us together - our Community Comeback.
In addition to the online collection, we are also organizing an in-person event for the community on Sunday, October 17, at lake Temescal. Read more here and come out and celebrate with us
The NHCA has ramped down certain operations during the COVID-19 pandemic. We respect the importance of sheltering in place. We will resume our public safety programs, advocacy work and attention to community gardens as conditions allow. In keeping with our mission, we will post public safety and health information as appropriate. To learn more about the NHCA, check out Our Story.
News & Notes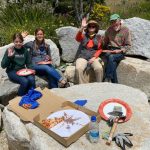 The NHCA Earth Day was celebrated by a number of volunteers enjoying the Gateway Exhibit and Gardens (Tunnel/Hiller/Caldecott Lane) admiring the beautiful vistas, placed granite rocks and color of the current blooming from succulents as well as Iris, Red Bud and Lilies. Participating in community volunteerism gave them an opportunity to meet new friends, learn […]
ARE YOU IN THE NHCA?
Everyone who lives in the area bounded by Ashby/Highway13, Claremont Blvd., GrizzlyPeak/Skyline, and Thornhill is a member of NHCA. Membership is free, but we depend on your support and participation so that we can cover our expenses (mostly for communication, a little for plants), work on issues that are important to everyone, and represent the community's views when we interact with city officials.
WELCOME: Thank you for visiting our new website!