The North Hills Community Association (NHCA) is a registered 501(c) (3) nonprofit organization located in the North Hills region of Oakland, California. The NHCA's all-volunteer board organizes programs and activities that support the NHCA's three-pronged mission of improving public safety, maintaining and beautifying community gardens and open spaces, and advocating on behalf of area owners and residents with local city and county governments and agencies. Click on the tiles below to read more about each of the NHCA's programs.
The NHCA has ramped down certain operations during the COVID-19 pandemic. We respect the importance of sheltering in place. We will resume our public safety programs, advocacy work and attention to community gardens as conditions allow. In keeping with our mission, we will post public safety and health information as appropriate. To learn more about the NHCA, check out Our Story.
News & Notes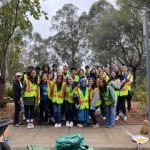 The Berkeley Project II, Saturday November 5th – Cal Students Did It Again!!!! The Berkeley Project is a group of students with the mission of helping to bridge the gap between students and the community, and to foster a spirit of service. Today was a particularly special day in that this was one of their large-scale events that includes over 1,000 […]
ARE YOU IN THE NHCA?
Everyone who lives in the area bounded by Ashby/Highway13, Claremont Blvd., GrizzlyPeak/Skyline, and Thornhill is a member of NHCA. Membership is free, but we depend on your support and participation so that we can cover our expenses (mostly for communication, a little for plants), work on issues that are important to everyone, and represent the community's views when we interact with city officials.

This is the new map of City of Oakland Council Districts. NHCA is part of District 4 now, an all hill district
WELCOME: Thank you for visiting our new website!