O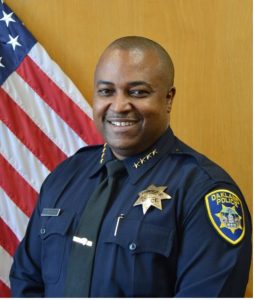 n February 8, 2021, Mayor Libby Schaaf and Oakland Police Commission Chair Regina Jackson swore-in LeRonne L. Armstrong as Chief of the Oakland Police Department.
Chief LeRonne L. Armstrong was born and raised in West Oakland, California, and is a graduate of McClymonds High School. He attended California State University, Sacramento, and graduated with a Bachelor of Science in Criminal Justice and holds a Master's Degree in Organizational Leadership.
After graduating college, Chief Armstrong returned home to Oakland where he started his career in public service by joining the Alameda County Juvenile Probation Department.
In 1999, Chief Armstrong joined the Oakland Police Department (OPD) as a police officer. During his 22-year career, he has served in several assignments before being promoted to Chief of Police. He started in patrol, worked as a Problem-Solving Officer, supervised the Gang Intelligence Task Force, and was assigned to the Criminal Investigation Division. He was also a Watch Commander, Commander of the Youth and School Safety Section, Special Resource Commander, Area Commander, and the Commanding Officer of the Special Operations Division.
Chief Armstrong is a graduate of the nationally acclaimed P.E.R.F. (Police Executive Research Forum) Senior Management Institute for Police Executives (S.M.I.P), California POST Leadership School, and the FBI National Academy Session 261. He is a California POST-certified instructor in Procedural Justice and Principled Policing where he is recognized as a California P.O.S.T. Subject Matter Expert. Chief Armstrong is one of the original officers assigned to work on the Oakland Ceasefire Strategy which has reduced violent crime by more than 50% since 2012 and remains as Co-Chair of the Ceasefire Steering Committee.