Our D-4 Councilmember Ramachandran recognised Dr Cruz who has tirelessly worked over 20 years on Violence Prevention issues, supporting the LatinX community and fought discrimination in commercial and previous police activity.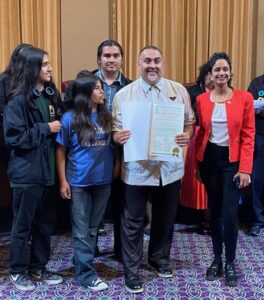 D-5 Councilmember Gallo recognised the Escovito family for their continued support of the Hispanic and LatinX community.
Pete Escovito famed musician (speaking) and daughter Shiela E percussionist (wearing burnt orange).